Project Type
Startup

New Product Development
Skills used
Sketching

Wireframing

Information Architecture

Prototyping

UX Research

Usability Testing

Analysis

Conversion Optimisation

UI Design

Visual Design

Branding
MetroDesk was conceptualised during a reed.co.uk Hackathon. Our idea was to bring the sharing economy to the workplace by creating a platform where organisations with spare desks could connect with people who needed flexible, cost effective workspace. In short, we aimed to be the 'Airbnb for office space'.
After a frantic 2 days of hacking, we won the People's Choice Award and after pitching the idea to the Board of Directors, we were given the opportunity to create the business for real. As a co-founder and the sole designer on the team, I was responsible for championing a user-centric approach to validating our idea, as well as delivering a world-class experience for both our B2C and B2B customers.
We started off by researching user needs, behaviours and pain-points in order to better understand how people rented office space. We created some assumptive personas and quickly validated them by conducting user interviews. We constantly referenced these personas when making any product/design decisions in order to establish and maintain empathy as a team.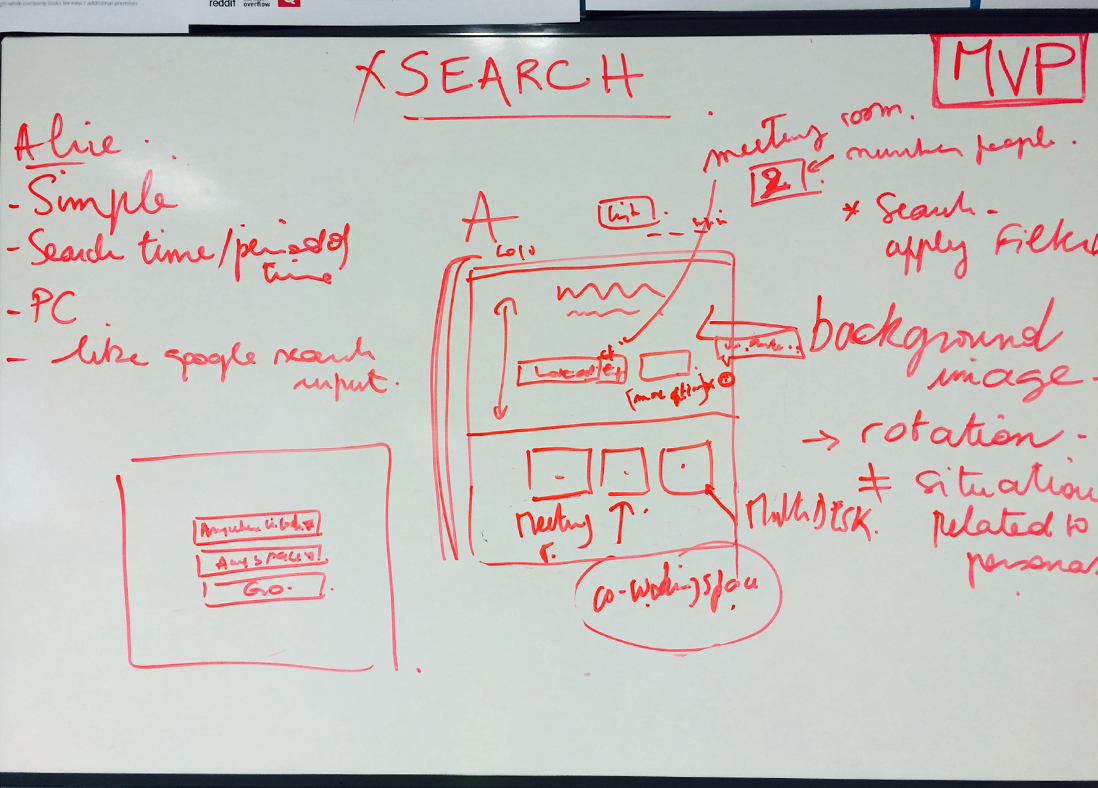 After testing the initial homepage designs we established that the two most important variables to all of our personas were location and the number of desks. We used progressive disclosure to allow users through the funnel as easily as possible whilst still maintaining relevancy. We later iterated on this design with tabs for different types of spaces - such as meeting rooms and training rooms.
Staying true to our principles as a lean start-up, the search results page was initially designed without a map as it would have delayed our minimum viable product.
I proposed that we add a map button to each of the cards - the button would only trigger a message stating that we were working on the feature - but by tagging the click/tap event we were able to prove quantitatively that it was a feature a high proportion of our users wanted.
Another key insight from usability testing and visitor recordings (via. Hotjar) was the ineffectiveness of having the filters in a sidebar. In the final design I moved the filters to the top of the content, which increased their usage and aided the overall conversion on this page.
Space Details
An early insight gleaned from user testing was the importance of imagery. Just like when looking for somewhere to live, high quality images can help sell a space, as well as help and allude to one of the harder aspects to quantify - the atmosphere/vibe of a workspace. Once arriving on this screen most users would interact with the image panel, cycle through the light-box of images and be able to make a judgement based on what they saw, so we were sure to keep a CTA to request a booking above the fold. Our B2B customers wanted something that could really showcase their space, so we put an emphasis on high quality imagery from the start and for those who didn't have professional quality photos of their workspace I personally went to take photos.
We focused the majority of our MVT testing on this page as it was a very important part of the conversion funnel and when a user started to show real intent. The majority of tests were on the booking panel, with emphasis on the messaging and the amount of information required to request a booking - trying to establish a happy medium between conversion and good quality leads for our B2B customers. Similar to the homepage, we found that using progressive disclosure worked best for booking enquiries - which by their nature were softer leads with a lower barrier for entry. For spaces bookable on the site, we experimented heavily with the amount of information needed to pass through the booking funnel and chose this to be the point to ask for registration in order to capture the lead.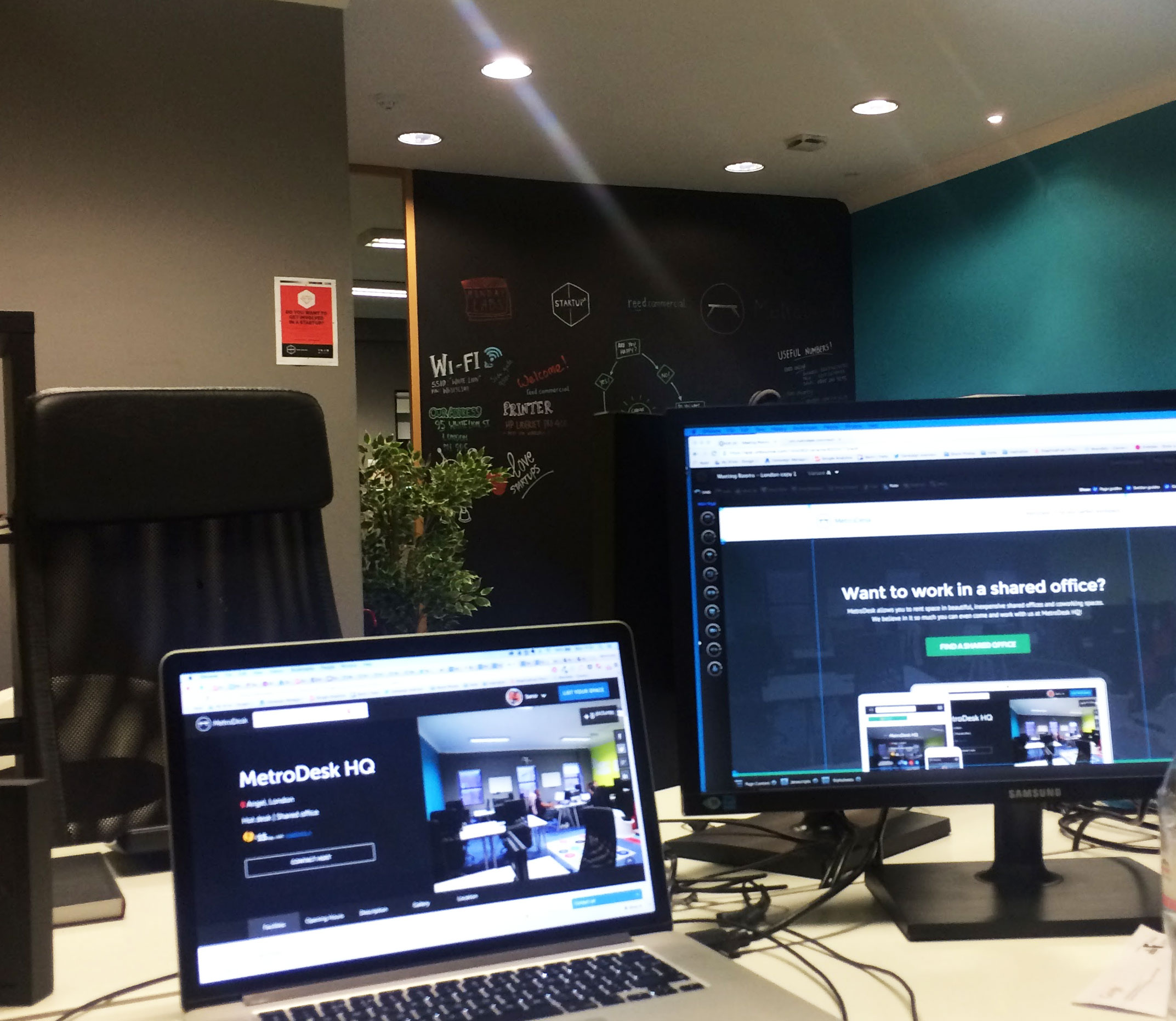 As the only person on the team with previous marketing experience, I also took charge of all our marketing efforts. As an early stage startup a lot of our initial traffic was paid, and as such I was continually testing and iterating on various adverts and landing pages in order to optimise our acquisition through the various paid channels (Adwords, Facebook, Twitter etc.)
MetroDesk was one of the most challenging and rewarding projects I've ever been part of. Having the opportunity to immerse myself fully in the running of the whole business gave me a holistic perspective which has in turn has made me a more complete Product Manager.
It gave me a chance to be part of a world that I had long wanted to be part of and although a strategic decision at board level meant that we had to come back to the main business - I'll be forever grateful for the opportunity which I feel gave me the equivalent of many years experience in less than one.